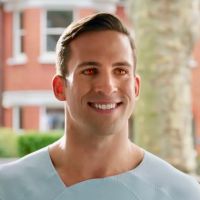 We are delighted to announce Dino Fetscher as our very first guest for Sci-Fi Ball 25.
Dino is a Welsh actor who many will recognise from the brand new series of Channel 4's Humans. Dino plays Stanley - the first major 'Orange Eyed' synth, who is tasked with looking after Laura (Katherine Parkinson) after she has her first meeting with the Dryden Commission.
Television credits include Russell T. Davies' Cucumber and Banana, including an entire episode led by him and another actor, Alex Wayfield in ITV's Paranoid and his West End theatre credits including As Is (Trafalgar Studios) and Ghost Stories (Arts Theatre).
Film credits include: Now You See Me 2.
This will be Dino Fetscher's first ever convention appearance. He will be joining us for the whole weekend.