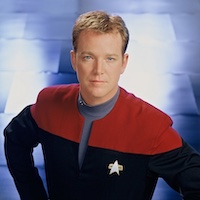 Robert Duncan McNeill enjoyed early success as a professional actor when he got the role of Charlie Brent on the popular ABC daytime drama All My Children and starred in the feature film Masters of the Universe. He also starred in an acclaimed episode of the 1980's version of The Twilight Zone. After he left All My Children, he landed a role in Stephen Sondheim's Broadway musical Into the Woods. His theatre background also includes performances in the Broadway production of Six Degrees of Separation with Stockard Channing, Romeo an Juliet, The Family of Mann and The Four-H Club.
After returning to Los Angeles to pursue roles on television, he has appeared in featured guest roles on numerous TV shows and movies – including popular shows such as L.A. Law, Murder, She Wrote, The Outer Limits and Crossing Jordan, among others. Star Trek fans will remember his guest role as Nick Locarno in the Star Trek: The Next Generation episode The First Duty. In 1995, he became a series regular on Star Trek: Voyager, portraying the character of Tom Paris.
Robert began his directing career with several episodes of Star Trek: Voyager. He then wrote, produced and directed two short films, 9 mm of Love and award-winning The Battery. Afterwards, he moved on to directing on numerous TV shows, helming countless episodes of Dawson's Creek, One Tree Hill, Las Vegas, Supernatural, V, White Collar, The Mentalist, Desperate Housewives and Warehouse 13. In 2007, he signed on as a producer-director of NBC's Chuck, where he became the Executive Producer in later seasons. Most recently, he worked as Executive Producer on Bravo's critically acclaimed, first original scripted series, Girlfriend's Guide to Divorce.
Robbie will be with us for the whole weekend, offering guest talks, photograph and autograph opportunities, he will be attending the Friday night cocktail party, Saturday night banquet and the opening ceremony too.