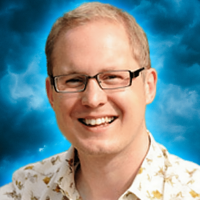 We are delighted to welcome Marc Silk as our next guest. You may not recognise the face but you will definately have heard his voice.
His character vocal work includes Aks Moe in Star Wars: Episode I – The Phantom Menace, Danger Mouse, The Pingu Show, Go Jetters, Strange Hill High, Chicken Run and US voice of Bob in Bob the Builder.
He provided the voice of Johnny Bravo in bumpers aired on Cartoon Network UK and Ireland. He has also voiced Scooby-Doo and Shaggy in voice work for both Cartoon Network UK and Ireland and the CITV channel.
He has even voiced pinball machines!!