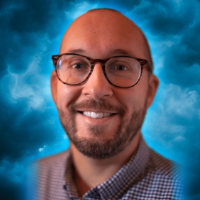 PAUL IAN CROSS, BSc (Hons), MSc, PhD, is a scientist, writer, and author of STEM-inspired books for children and young adults.
Paul works in clinical research (developing new medicines) and he's also a science communicator; helping people understand science, even if they aren't scientists themselves. He has a passion for introducing children and young people to STEM subjects (science, technology, engineering and mathematics). If you follow Paul on social media you'll find lots of fascinating STEM content!
Paul has written several hilarious and informative books including How To Vanquish A Virus, Bodies, Brains & Bogies and Cyborgs, Genes & Tiny Machines. He also writes STEM-inspired fiction, such as The Chronicles of Engella Rhys, The Secret STEM Squad and the award-winning Praxx & Zobott picture books.
Paul's favourite subject is biology and he has a particular interest in health, medicine and nature. He's also fascinated by technology, the environment and outer space, and he's super interested in the possibility of life on other planets! How awesome is that!