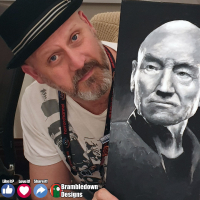 Symon Leech is the artist behind Brambledown Designs and works freelance in the UK. He has worked with Topps trading cards, independent table-top role-playing gamewriters and Chaosium, the producers of cult ttrpg Call of Cthulhu. Brambledown Designs are the winners of the SBS (Small Business Sunday) award, a competition run by Theo Paphitis of Dragons' Den.
Symon is heavily influenced by geek culture and produces art based on any and all of the nerdy things that he has loved during his life. He works with a variety of media including acrylics, water colours and linoprinting. Also, just using just a hammer, a pot of glue and a pile of old vinyl records he makes unique mosaics, without the use of a safety net.
Symon and Pamela, the other half of Brambledown Designs, can be seen online every day at 11AM on social media, a habit that they picked up during lockdown. They have broadcasted every day (including Christmas) and even have a theme tune.