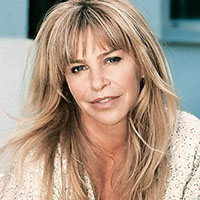 Leslie Ash is attending the 26th annual Sci-Fi Ball. She is perhaps most famous for her role as Deborah Burton in the BBC sitcom Men Behaving Badly.
At the tender age of 4 in an advert for a dish washing product. She was asked to say, "Mummy, why are your hands so soft?" It was a very famous Fairy Liquid advertisement that many still remember today.
She then started her career as a fashion model who was featured in several teenager magazines as a cover girl.
Her performance as Steph in the 1979 cult film Quadrophenia led to a presenting stint on The Tube, with Jools Holland and to part in C.A.T.S Eyes, Love Hurts and Bugs and she also played Julietta Shane in 'Curse of the Pink Panther'. This was followed by Leslie landing the role of Debs in Men Behaving Badly which ran from 1992 until 1998.
Her later TV career saw her in the role was that of Vanessa Lytton in Holby City. 2019 has been a very busy year for Leslie in helping to celebrate the 40th anniversary of Quadrophenia.