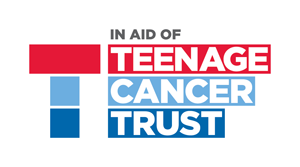 Teenage Cancer Trust is the only UK charity dedicated to improving the quality of life and chances of survival for the six young people aged between 13 and 24 diagnosed with cancer every day. They build specialist units within NHS hospitals bringing young people together to be treated by teenage cancer experts in a place designed just for them. They want every young person with cancer to have access to this specialist support, no matter where they live.
Traditionally treated alongside children or elderly patients at the end of their lives, young people can feel extremely isolated and alone during their treatment, some never meeting another young person with cancer. Being treated alongside others their own age can make a huge difference to their whole experience.
Teenage Cancer Trust believes young people's lives shouldn't stop because they have cancer, so they treat them as young people first, cancer patients second. They exist to ensure they have access to the best possible care and professional support from the point of diagnosis.
They know providing a place that feels more 'normal' and less like an institution helps young people cope with the devastation and chaos of cancer and its grueling treatments. Their units are designed to feel like a home from home, where young people will be comfortable. The walls are bright, the furniture is funky, there might be pool tables and a jukebox, and there's always a place to watch films and surf the net.
Within their units they fund specialist staff, including nurses and youth support co-ordinators. Experts in teenage and young adult cancer care, they provide the best possible clinical, psychological and social care.
Teenage Cancer Trust also educates young people about cancer, providing free talks to schools, colleges and universities. Cancer in young people is rare but they want young people to know the common signs and symptoms so they can seek medical advice if they are worried. These include unexplained and persistent: pain, swellings, lumps, bleeding, bruising, headaches, extreme tiredness, night sweats, cough, sore throat, hoarse voice or weight loss; changes in the size, shape and colour of a mole; or a change in bowel habits.
Teenage Cancer Trust provides a range of other services for young people and their families:
Find your Sense of Tumour: an annual weekend which brings over 300 young people together to help them understand and deal with the physical and psychological effects of cancer.
jimmyteens.tv: an innovative programme which enables young people to share their cancer experiences creatively through video diaries, films and animation.
Teenagecancertrust.org: an award winning website and support network for young people with cancer.
International Conference on Teenage and Young Adult Cancer Medicine: the primary event for those working in the field to keep ahead of developments, and to share information and best practice from around the world.
Medical Courses: they also fund courses for medical professionals at all levels, so they can improve how they treat young people with cancer.
Teenage Cancer Trust rely solely on donations to fund their vital work. You can help transform the lives of young people with cancer. Visit www.teenagecancertrust.org to find out how.
All profits from the Sci-Fi Ball charity auction and other special events over the weekend will be donated to this valuable resource.
Thank you all very much for supporting our charity.
Since January 2009 you have helped us raise £34,965 for Teenage Cancer Trust.